CPH-Ø1 is the FIRST IN A series of new experimental FLOATING PUBLIC spaces IN COPENHAgEN HARBOR
SMALL ISLAND - BIG IDEAS
CPH-Ø1 is a small 20m2 hand made wooden platform with a linden tree at its centre. It is a simple and iconic metaphor for an uninhabited island and represents the first taste of a completely new type of public space coming to Copenhagen. Moveable, floating, public spaces free for people to explore and conquer.
The Copenhagen Islands introduce a completely new type of public parks in Copenhagen - a "parkipelago" focusing on the place and function of public spaces in the city - both in a local context with rapid urban development along the harbor side, threatening the recreational spaces, but also in a global context with rising sea levels creating new challenges for urban environments.
The islands will be dispatched on suitable locations around the inner harbor, but also find their way to more forgotten and underused corners of the harbor, catalyzing life and activity. Hopefully giving back a little bit of space for whimsey and wonder to the old industrial harbor sides.
FlOATING FEATURES
CPH-Ø1 will be joined by CPH-Ø2, Ø3 and many more. They will serve as platforms for different activities - swim zones, floating saunas, floating gardens, floating mussel farms and a floating sail-in café, all free to be explored by the increasing number of kayaks, sailors, GoBoaters, tourists and fishermen in the harbor.
Floating flexibility
During summer the islands can be distributed to unused parts of the harbor, serving as an adventurous escape for the increasing amount of kayaks, sailors and general users of the harbor coast line.
During winter and for special events or festivals, the islands can be brought together as a super-continent, creating a cluster more easily accessed from the harbor side.
SUMMER MONTHS WINTER MONTHS AND EVENTS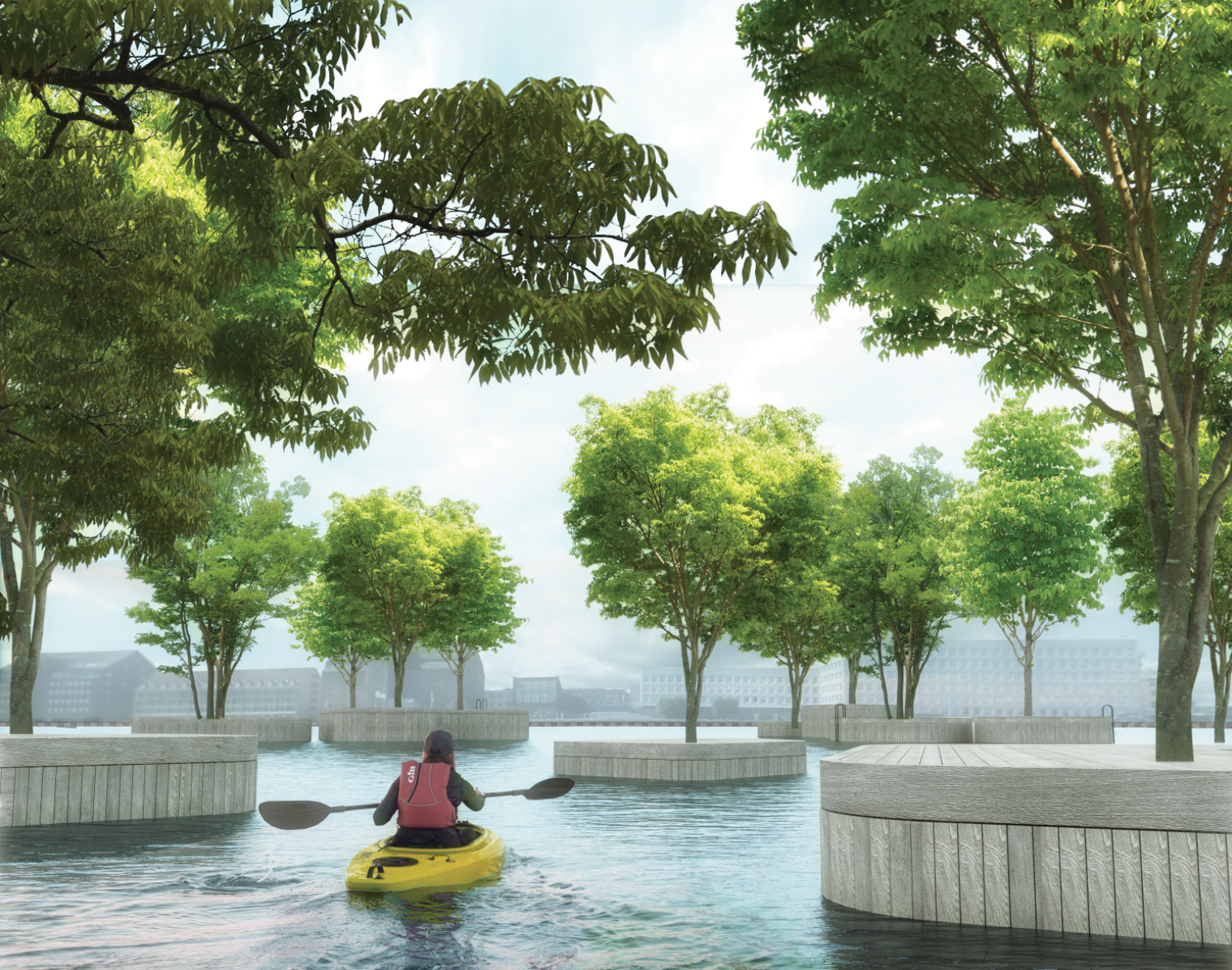 Copenhagen Islands are one of many parkipelagos yet to be built. Several harbors all over Denmark have undergone a huge development, changing rapidly as cities are expanding and sea levels are rising. Preparing for the future, the islands can be adapted and customized to each harbor, creating a unique and site-specific urban environment.
In Copenhagen, CPH-Ø1 will be followed by CPH-Ø2, CPH-Ø3, CPH-Ø3 etc.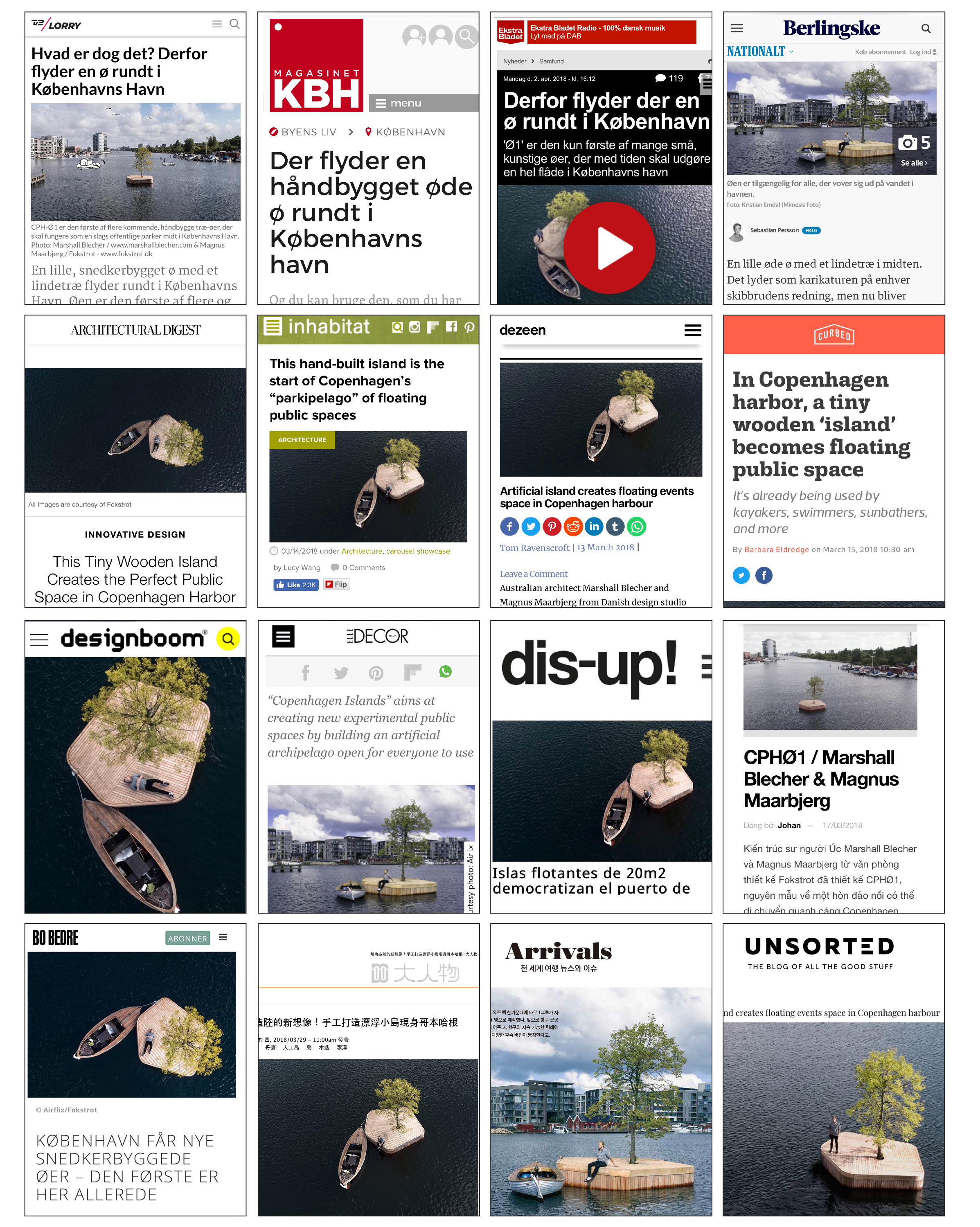 The Copenhagen Islands have been featured in several Danish and international medias, architecture magazines and television.
Winner at Tapei International Design Award 2018 in the category Best Social Urban Space
Nominated at Beazley Designs Of The Year 2018
Nominated at Byens Bedste AOK 2019, in the category Best Initiative
CPH-Ø1 can be found at La Banchina at Refshaleøen from July 2019
Follow the #COPENHAGENISLANDS on Instagram.
CPHØ1 was constructed by hand in the boat building yards in the south habor of Copenhagen using traditional wooden boat building techniques. It was made entirely from sustainably and locally sourced materials.
Please contact us for more information
CONTACT INFO
MARSHALL BLECHER AND MAGNUS MAARBJERG (www.FOKSTROT.dk)
+45 27 60 91 81 // +45 61 69 44 49
Photos by airflix.com and memesis-foto.nu